Are you ready to learn hacking cryptocurrencies through realistic examples?
---
The seventh event starting at Hacktivity 2021 and finishing in Dubai, on the Crypto Yacht.
Challenges creators: Six, Silur, Rooney, Factoreal
Partners of the event: Hacktivity, EcoX, Asis, Olymp Consulting
Main Sponsors of CC7F: SBC Glocal, MyCryptoSeed, HODLbag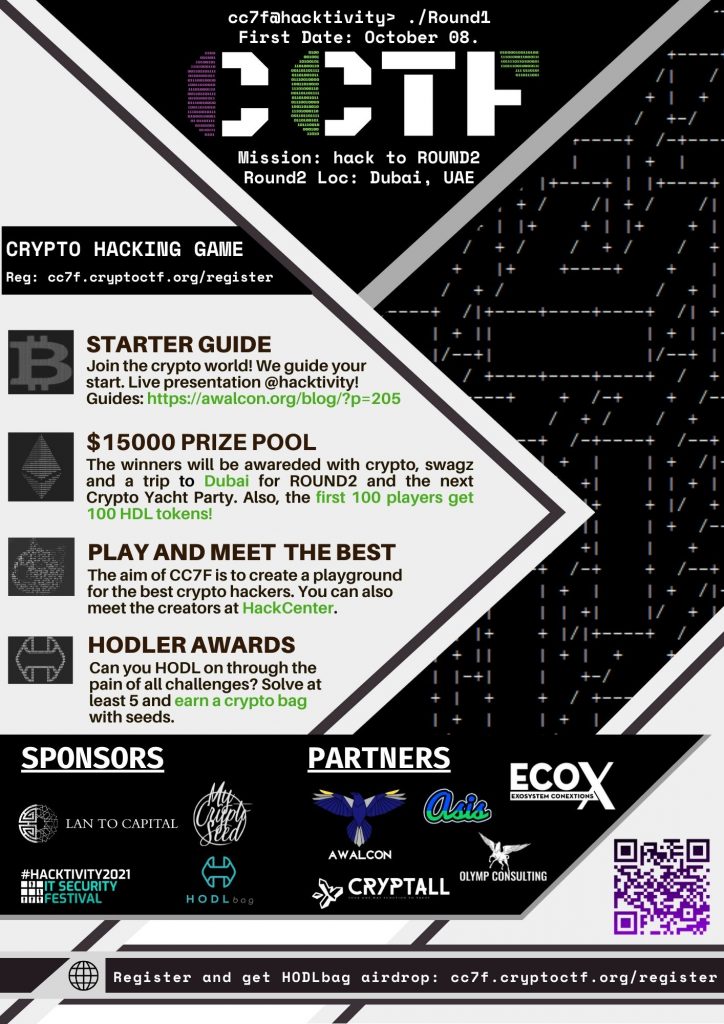 ---
Community
Matrix: CCTF Matrix Room
Discord: CCTF Discord Server

Guide for beginners: Awalcon Blog: Start Hacking

---
CC7F Information
CCTF Vol7. aka CC7F goes live at Hackvitiy, on 8th October.

Prizes for Round 1winners:
Top 8: trip to Dubai and entry to play ROUND2 on the next Bitcoin/Crypto Yacht Party (6 hours)
Top 8: gain HDL tokens and receive a HODLbag crypto training bag
Top 3: Hacktivity t-shirts and tickets for 2022
Top 3 winners get a MyCryptoSeed seed storage
Few more prizes might be added later as we are waiting for answers from more sponsors.
Prizes for Round2 are secret yet 🙂
---
Media
Awalcon – Tech writeups and articles
Index.hu – Crypto hacking challenge (Hungarian article)
Bitcoinist – EcoX Partners With CCTF Organizers to Host the Largest Blockchain Hacking Event
---
---